Hello, I've been wanting to share my little flooring episode with you for awhile now but I am seriously in the panic-driven packing mode. As you see on the left side of the page, I've had to close my shop (temporarily!) because all my Yardwork items are packed and ready to move to Brooklyn. I'm exhausted but will catch you up on a little history and thought process around one of the more difficult decisions I needed to make about my new apartment.
You may remember this photo showing the "ceramic stage" of a kitchen floor that I so much wanted to change. Along with that, I knew that I would need to do a lot of touch-up/repair type work on the wood parquet floor that runs throughout the rest of the apartment. Except for the bathroom, of course. Would love to change the bathroom floor as soon as possible, but that may end up being a few years down the road. Anyway, once the previous owners moved out, I could see that the parquet needed more than just a touch-up. It was in very bad shape. This type of parquet floor is very very common around New York City and was in just about every single apartment in Brooklyn that I looked at. So I decided that, if I was going to go to the expense and trouble to remove it, I wanted to replace it with something more unique. So, I began doing a lot of flooring research (i.e. fantasizing).
I really didn't see my apartment as being a slick, contemporary space. Call me crazy, but I was thinking it could be pushed in a Spanish Revival style direction, like this beautiful interior I found at
Remodelista
. Actually even a little less contemporary than the photo above. I realize
my ceiling beams
are not wood as they should be for this style, but the lines are the same. Simple straight lines without any detailed molding. Just the plain strip of wood on the wall right above the floor. So what I needed was an older wood floor.
I started looking into reclaimed wood flooring. And, being an old factory building, I added "factory" to my google search words. I fell in love with this reclaimed factory flooring and it came from a
place near my current home in Massachusetts
! I even drove out to see the flooring in person. They had a lot of nice options. It would be interesting to see the all-over texture that this floor would create. It would push the decor to a more urban version of my vision, but that was OK. However, I discovered the floor did not come pre-finished, meaning I would have to deal with that expense and those fumes. I was not sure my new neighbors or the coop board was going to go for that. I was lucky to have this work approved so quickly and I did not want to rock the boat. Plus, years from now (many, I hope!) when I may need/want to sell this place, it could be a look with limited appeal. I love it though!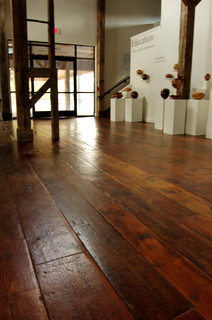 Through one of my favorite websites,
Houzz
, I found this beautiful reclaimed flooring by
Burchette & Burchette
in North Carolina. It is called Tobacco Pine. I spoke with this company and they could not have been more friendly! They sent me a few gorgeous samples. The colors in the wood are enhanced with their own handmade tea stains and finishes (pre-finished!). Yes, this was the most expensive flooring I looked at and I sure was tempted! I thought it would add just the right warmth and character to my evolving interior. It was just the look I wanted but I lost a lot of sleep thinking about the cost. Not only would I be paying for the wood, but I would have to have it shipped from North Carolina. Didn't even want to think about what that would cost, so I started visiting websites and showrooms in NYC. I settled on something from
PID Floors
. Unfortunately, I do not have a picture of the sample. Perhaps because, in the end, I couldn't use it.
For those who have not been counting the months, I began my search for an apartment in late April. I found the one I wanted and had the offer to buy accepted in August. I had my coop application in by September 19th. I was not approved to be a part of this coop until late November! The much needed before-move-in work could not be started until the beginning of December and there are rules against working on holiday days, something that December/January are full of. My contract on the selling of my apartment in Brookline, MA gave me until January 31st to clear out. I am moving out on January 23rd, so I cut it pretty close! My original plan was to be out by October which obviously did not happen. So, when the super of my new building (who is doing this before-move-in work for me) told me that if I wanted anything but the regulation parquet floor, I would have to wait for the next coop board meeting to get it approved. That meeting was going to be in January - which, at the time, was a month away! Then, there would be ordering the floor, shipping the floor, and then wood flooring has to sit in it's new environment for at least two weeks before being installed. OK, so that meant late February or March move-in. If you calculate all the complications and expense of that, I hope you agree with my choice to go with the parquet flooring. My dreams of an urban Spanish Revival "bungalow" evaporated. So sad.
First thing I did was change the main ceiling and wall color from Benjamin Moore's
timid white
to Benjamin Moore's
white chocolate
. Both are creamy, yellowish whites but the white chocolate is brighter and more contemporary than the timid white, which I consider to a brighter
antique white
.
Then I decided to change the color of the
marmoleum
tile for the kitchen area. I was going to use a very deep burgundy called
"wine barrel"
to contrast with the darker wood color I wanted. With the new lighter parquet, I decided to go with a color called
"shitake"
. This will only be in an approximate 4' x 10' area right in front of the kitchen cabinets where the oven and sink are. It's a little better for a an area that needs to survive a lot of spills than the parquet floor would be. Having less area of kitchen tile will open up some of that space, that used to be covered in ceramic tile, to the dining area. Keeping my fingers crossed that this is all going to look good!
So, now we have a second reason not to buy a coop apartment unless you absolutely have to. The first is that you may or may not get approved, in either case it will take forever causing much stress. The second is that you really have to be flexible about what you might want to do decoratively because you don't, in fact, really own your apartment. You own a share of the building, and the square footage of the apartment determines the size of your share. Unfortunately, in New York City, almost every apartment that you can buy is a coop.
Therefore, I will be flexible!
Because I absolutely have to be.